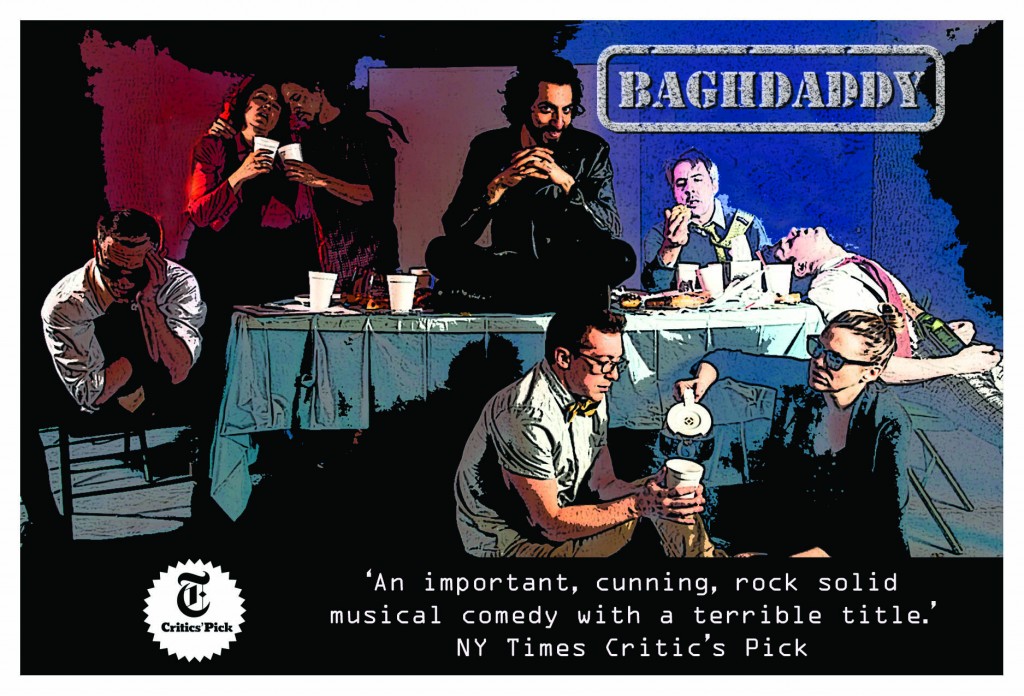 A Very Serious New Musical Comedy
The musical comedy from Marshall Pailet (Triassic Parq) and A.D. Penedo (The Three Times She Knocked) about a support group for those who started the Iraq War. The piece recounts the sometimes absurd, at other times devastating, true story of a handful of mid-level spies whose foibles contributed to the worst intelligence blunder in modern history.
Download the Who's Your Baghdaddy? Script.
Music from Who's Your Baghdaddy?
Das Man A young German interrogator celebrates himself. Brennan Caldwell and Company.
Music to Me A CIA analyst experiences unrequited love. Olli Haaskivi and Company.
Who's Your Baghdaddy? Our German interrogator and an Iraqi defector party in Berlin while the world crumbles around them. Brennan Caldwell and Nehal Joshi.
Speak to me Tomorrow  Our Iraqi defector struggles as our characters receive their comeuppance. Nehal Joshi and Company.
PRESS:
What's New in New York City Theater – New York Times
Playbill Shows Not to Miss – PlayBill
Ethan Slater Joins the Cast – PlayBill
Baghdaddy returns – PlayBill
REVIEWS:
…the year's smartest musical… –Manhattan Digest, Best of 2015 Theatre
…an important, cunning, rock-solid musical comedy… –New York Times, Critics Picks
BAGHDADDY is anything but your run of the mill musical comedy. It is clever in its construction, rarely whimsical, performed with an honesty that grants each character dignity, and spellbindingly intellectual. –BroadwayWorld.com
It's two hours of high-paced pondering that will make you laugh, think, and silently wonder what secrets are kept and the casualties they reap. –NY Theatre Guide
Hamilton may have the hype, but it's not the only show in town to leave you in astonishment. It has bad-ass style with a bad-ass cast that pulls off one of the most bad-ass musicals I've seen in a very long time. –Manhattan Digest
A whip smart musical comedy… truly magical… This is not only impressive, it is deeply important. –Theasy.com
The songs are made to make you laugh and think. You are likely to leave the theater smiling, and perhaps a bit angry… You don't have to be a Democrat to enjoy this show. –App.com
"Baghdaddy" is hilarious, creative, clever, and, dare I say, inspiring. –DC Theatre Scene
" Baghdaddy" leaves the audience laughing, but – like all good satire – thinking as well. –Voice of America
AWARDS:
OBA Nominee, Best Off-Broadway Musical, 2015
Manhattan Digest's Best of 2015 Theater
New York Times Critics Pick, 2015
Top Ten Plays and Musicals 2015, Theater Pizzazz
Best Overall Production, DC Fringe, Summer 2011
Must See Production of 2011, Maryland Theater Guide
2011 Osborn Award nominee
Tracks featuring Brennan Caldwell, Jason Collins, Brandon Espinoza, Peter Friedman, Nehal Joshi, Olli Haaskivi, Claire Neumann, and Sarah Sokolovic.
Orchestrations by Charlie Rosen, Music Supervision by Zak Sandler.
Commissioned by Charlie Fink and the New Musical Foundation.